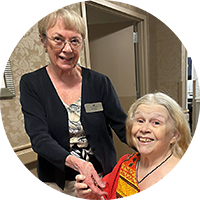 "I want to thank Diana. She visited me daily and was so kind to me. I can't wait to get into my own house."
– Karen Power
---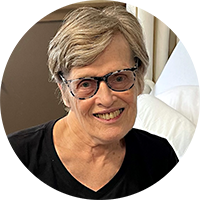 "I had a great stay. I want to thank everyone. I am happy to be going home a bit healthier and stronger."
– Carolyn Mullen
---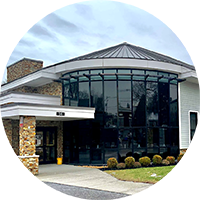 "I had medical and physical issues that required careful monitoring by nursing staff, OT and PT intervention, evaluation, and daily goals. My needs were met during my stay because a well-qualified staff used an integrated model. All departments communicated my needs and daily progress, via emails, daily. I chose Webster Park Rehabilitation because of the convenient location, reasonable rates for rooms, daily one-on-one OT, PT, and excellent evaluation skills. The resulting skills were tailored to my physical condition. OT, PT and nursing colleagues shared my daily condition and designed a plan to help me strengthen my muscles, gait, fine and gross motor abilities. The gym was outfitted with appropriate equipment and stations for many students at once. There were vast needs of other patients, and I could see how effective the staff was at making the gym situation inclusive and attainable for a myriad of patients' needs. I was able to progress on an individual time frame with exercises addressing my specific abilities. I felt comfortable with OT and PT plans. They were fun and attainable. I felt immediate success. I was very comfortable. I felt well cared for. I would recommend Webster Park to my neighbors."
– Anonymous
---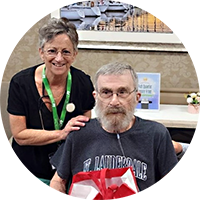 "I had a great stay here at Webster Park. Emily, the Nurse Manager, is exceptional. Mary Ann, RT, was so kind to me and on top of her game. I'm happy to be going home. I had a great stay. Thank you all!"
– Roland Sferrazza
---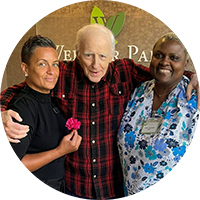 "I had a spectacular stay. Everyone was so pleasant to me."
– Andrew Addoms
---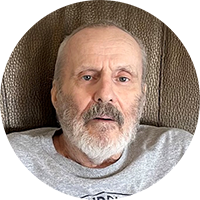 "I had a good stay. The morning staff was great. They would get you up early and get you going. Thanks for everything."
– Stephen Robbins
---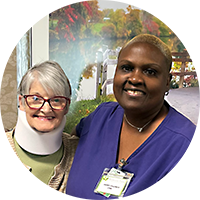 "I had a great stay. Vickie is awesome! I am happy to be going home. I am going to miss Vickie."
– Patricia Richardi
---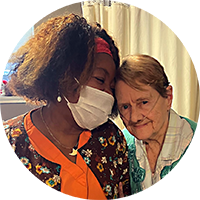 "I had a great stay. I love Junie, my nurse. Everyone was so helpful. I am happy to be going home and my daughter was happy with the care I got."
– Dorothy Gadsby
(Pictured with her nurse, Junie)
---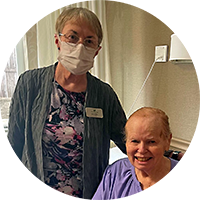 "My stay at Webster Park was great. I am happy to be going home today. Emily my nurse was awesome to me, as well as Vicky, who helped me out quite a bit while here at Webster Park. Thank you everyone!"
– Audrey Druker
---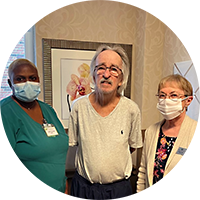 "I am happy to be going home. I came here I was in tough shape. I am happy to report I am off continuous O2 and back to my baseline. I feel like a new man. Everything was great from Nursing/CNAs, especially Emily my nurse and Vicky my CNA. Rehab was wonderful. MaryAnn the RT was a great support to me. The food was good. I was surprised with a giggle."
– John Alves
---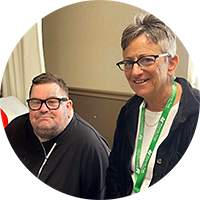 "Had a great stay. Everyone has been great. I have sleep apnea and Maryann the RT helped me with the mask and oxygen to use during my stay. Very nice place."
– Thomas Harbinson
---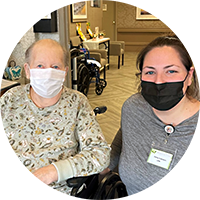 "My stay was good. Emily, my nurse (pictured in photo), was kind and very helpful to me while here at Webster Park. I am so happy to be going home. Thank you for everything."
– Florence Santori
---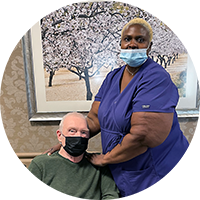 "I chose Webster Park because it gave me the same feeling as home. Webster Park let me be me! The entire PT Team, Vickie, Marie, Emily, and many many more were so helpful during my rehab and I recovered at my own pace. My stay at Webster Park was very good! If you need good and consistent care, Webster Park is for you!"
– George Whiting
(pictured with Vicky, CNA)
---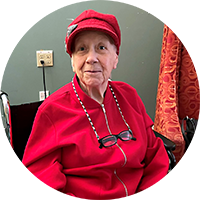 "I had a great stay. The nurses and CNAs took great care of me. The rehab department was very kind and helped me get better. I want to thank everyone at Webster Park for making my stay pleasant."
– Carol Clark
---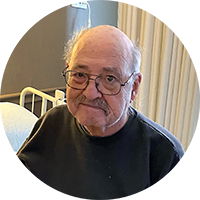 "Everything was great. Happy to be going home."
– David McGrath
---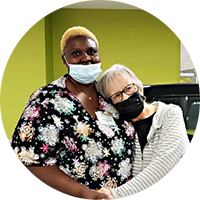 "I will miss Vikki and other staff here. They were so nice and kind to me. I want to take Vikki home with me. I will definitely come back if I ever need rehab, this is my second stay here."
– Nancy O'Connell
---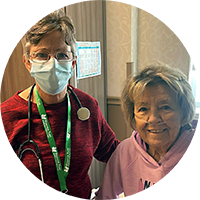 "I received top notch care at Webster Park. I required oxygen to go home and the Respiratory Therapist was able to arrange the delivery to travel to Texas and make all the arrangements through the airline during this busy Christmas week – thank you all."
– Valerie Smith
(heading to Texas before holidays)
---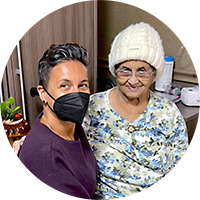 "I was very pleased with the care and rehab, and I am appreciative of all the Cape Verdean staff members who always came in to check on me. I am so happy to make it home for the holidays and looking forward to celebrating my 91st birthday next year with my family – you are all invited to the party."
– Mrs. Paulina Depina
---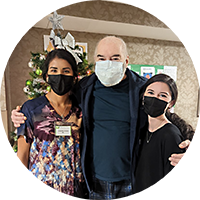 "Everyone was fantastic especially Leslie Cortes my nurse and Erin Gillis my ambassador. Erin checked on me every day to make sure my stay is going smoothly. I miss you all but will be back if I ever need to be." Albert Bags is going home safely before holidays.
– Albert Bags
---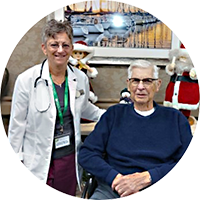 "I thoroughly enjoyed my stay here, the staff treated me like family. I did not want to leave."
– Robert White
---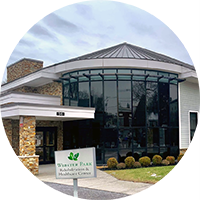 "I had a great stay. Everyone was so helpful. I will be back after the holidays for another STR stay, I'm having a knee done. Hopefully my room will be waiting – LOL"
– George Whiting
---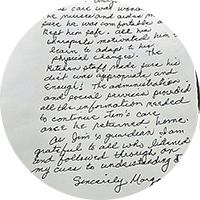 "My brother Jim, who is learning disabled, was diagnosed with drop foot and needed to spend some time at Webster Park Rehabilitation learning how to continue to do his daily activities. Jim is very uncomfortable with changes, and being away from home is particularly difficult. everyone involved in his care was wonderful. The nurses and aides made sure he was comfortable and kept him safe. All his therapists motivated him to learn to adapt to his physical changes. The kitchen staff made sure his diet was appropriate and enough! The administration and social services provided all the information needed to continue Jim's care once he returned home. As Jim's guardian, I am grateful to all who listened and followed through on my cues to understanding Jim. Sincerely,"
– Margo
---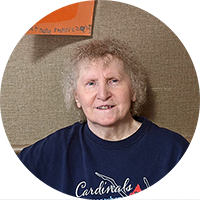 "My stay was great. Staff were very nice and I am so happy heading home healthy."
– Jean Sanford
---
"My Short stay at Webster Park has been a wonderful experience. The staff here is super, always willing to help a patient no matter what. The facility is immaculate and well maintained. They take pride in their facility. They have activities for everyone and make sure everyone knows what they are. If I ever have to go to a facility like this again, I hope I come back to this one. This is the elite of Rehab and Nursing Center."
Well done folks,
– Glenn Kashner
---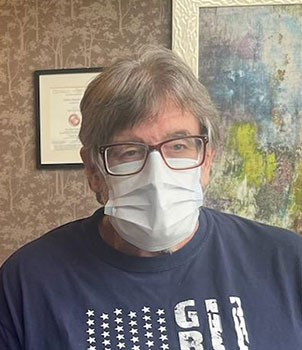 "I am so glad I chose Wester Park. Staff were so nice to me. They were so kind and patient to me. Vikki Deborah, Marie ( CNAs), and Stacy from rehab were the best! I am happy to go back home but will miss these people."
– Daniel Vecchione
---
"Exceptional staff at all levels, they really care about the patients. Food was fine, rehab was great, especially Stacey, she always went the extra mile. Very clean facility never any odors. Michelle R.N. is PHENOMENAL!!!!"
– William Wadsworth
---
"Caring staff, everything was great loved the breakfast. Was pleasantly surprised with the facility, great rehab, excellent housekeeping, nothing bad to say at all! Overall very pleased."
– Barbara Robins
---
I cannot say enough amazing things about this rehabilitation. My father is there now and the staff has been so attentive and caring. The communication that I receive from the team has been fantastic. All of the management and staff on the floors are respective and always say hello to you in the rehab and on top of everything you can see the smile behind the mask!
We are so happy dad's here and rehabbing and going to be able to come home to us shortly feeling better than ever!!!
– Jenn Dale
---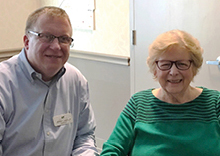 I WOULD NOT HESITATE TO COME BACK HERE, IT'S MY HOTEL FOR GREAT CARE.
The staff was so nice and cheerful. I could not walk around my room upon my arrival and now I can walk all the bases on a ball field. My doctor, Dr. Soodan, answered all my questions and was wonderful to me. The rehabilitation team was fantastic and helped me regain the ability to cook my meals and climb my stairs so I could return home. The Food Service Director, David, became a great friend and even shared recipes of the food I had here at Webster Park. I really enjoyed the food! The most important part of my stay was the Nurses and CNAs who were attentive to all of my needs.
Webster Park is a wonderful place – thank you to the entire staff! I would not hesitate to come back and tell my friends to get rehab at Webster Park.
– Ms. Nelda Oberes
---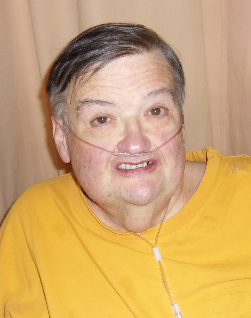 "As a resident of Webster Park I really can't say enough about the caregivers and staff of the facility. The nurses and the aides are tremendous and the rest of the staff is just as great. There are a lot of rehab facilities on the South Shore and I am just very happy that I ended up here!"
– Mark Cantrell
Second Floor Resident
---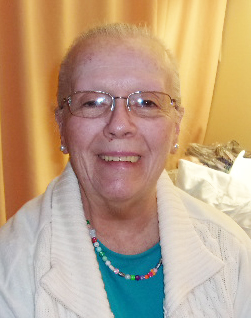 "I have been a resident at Webster Park for 4 years and love it. The staff here works so hard and are very kind; they take wonderful care of all of us."
– Sally Costello
Second Floor Resident & President of the Resident Council
---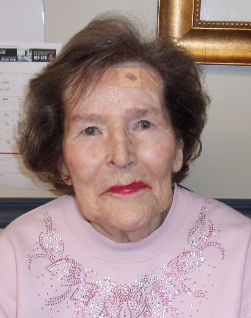 "I've lived at Webster Park for 6-7 years and love it! Why would I ever want to leave? We are waited on hand and foot . . . LOL. Seriously though, the care here is wonderful; the food is delicious (my compliments to the chef) and everyone is always so kind. Activities keeps us constantly busy with music and games; my favorite times are when we play cards or scrabble."
– Kay Stevens
Third Floor Resident